Lent
The children marked Ash Wednesday and the beginning of Lent with a special liturgy from Mark 10. We listened carefully to a gospel reading about making sacrifices.
The children were then asked to think about the three key aspects of Lenten worship: prayer, fasting and giving. The liturgy explained the meaning of these three things and why we sometimes give up things for Lent…it isn't because God doesn't like chocolate!
The children also listened to some prayerful music as they reflected on what Lent meant for them. We prayed together for peace in the world.
If you would also like to watch the liturgy we shared together in class, please click on the video below.
World Day of Prayer
In class we celebrated World Day of Prayer. Our prayers focused on the theme of peace at this unsettled time in Europe and we prayed for all people suffering from the impact of war.
RE lessons
Our topic this half term is Jesus, Son of God. Y6 have completed their preparation for the Sacrament of Confirmation, making links back to to making the Sacrament of Reconciliation and First Holy Communion. Year 6 are also prepare for Lent in our RE lessons where we will learn about the ultimate sacrifice Jesus made when he died for the forgiveness of all our sins.
We started our half term by hearing the encyclical letter from Pope Francis titled 'Laudato Si'. We considered the key points in the Pope's letter and explored key vocabulary too. This is a super video below to share at home together and maybe you could make your own '8 to be great' pledge as a family like we did in class.
We then made our pledge to care for our common home and thought of our '8 to be great' – these are 8 eco-actions we can take to care for God's world. We heard the Pope tell us that the world is a gift from God and that we should do all we can to care for the world we live in. Some of the suggestions the children came up with were recycling, saving water, saving electricity and energy, walking where we can, not buying fast fashion and using charity shops to donate and buy clothes as well as litter picking, being less selfish and more generous with time and our belongings and also making a conscious effort to eat less meat.
Year 6 have been looking at a range of miracles that Jesus performed and the reasons why he performed them. They used the Bible to locate the miracles and learn more about them. Y6 then put them into different categories: nature, death and disease.
To help the children understand why some people at the time opposed Jesus, we focussed on the identity of Jesus and the concept of Messiah. The children linked being anointed to their confirmation just a few weeks ago. We looked back at the history of Israel and the importance of a messiah for the Jews. We considered what Jewish people would want from a messiah and the qualities were shared on a flip chart. We looked at how these qualities were qualities demonstrated by Jesus and actual qualities that we nurture our children to have in school.
We then moved on to learn about the Transfiguration of Jesus. We read about this from Matthew's Gospel 17:1-9 and then watched a cartoon version to help the children to really understand this tricky concept.
Y6 compared Jewish beliefs about the Messiah and Christian beliefs about the Messiah. I was really impressed at their contributions and understanding developing and this will really help as we move onto think about the events of Holy Week shortly.
RE Other Faiths Trip
We have been learning about other faiths, and Islam is the next major faith in Leeds after Christianity so Year 6 went to visit a mosque in Leeds to learn about Islam. We received a very warm welcome from the staff and volunteers who were full of knowledge and very happy to answer questions and share their experiences. The children enjoyed a treasure hunt around the Mosque; each clue revealed a fact about Islam. There were lots to find!
After the treasure hunt, the children looked at 12 artefacts/symbols and had to try to guess what they were and why you might take them on a journey if you were Muslim. The artefacts included a prayer mat, a bottle of water, a lunar calendar, and symbols of the moon and starts to name only a few.
After lunch, the children enjoyed a games of corners in the Mosque which had the softest carpet ever – it felt like we were walking on a fluffy cloud all day! The children then designed a Mosque of the future and had to include their new knowledge and understanding gained from the morning activities, whilst bringing in some of their creativity and imagination based on the future.
Finally, the children observed prayers taking place and had a commentary of what was happening as the people prayed.  The day flew by! Thank you to all the staff and volunteers who provided this excellent learning experience. It was lovely to see them again this year as we had previously met during a trip last year. I know the children gained a huge amount from this day.
As part of their learning about other major world religions, Year 6 had an assembly and workshop delivered by Afsha from Lincoln Green mosque. In the KS2 assembly, the children learnt about Islam and thought about what a Muslim person looks like. We learnt that some Muslim women and men make the choice to wear head coverings, but that Muslims can have any colour of skin.
Afsha shared some of her key beliefs and the children were surprised to find how many similarities there were between their own Catholic faith and the Muslim religion. We found out that Jesus Christ and Mary are key figures in Islamic teachings and Muslims also believe that God created the world.
The Year 6 children enjoyed a true or false quiz about Islam. The contestants had to squirt each other with water if they guessed the answers wrong. Some of the questions were tricky and so a few children got a little bit wet!
After the KS2 assembly, Afsha joined Year 6 for a calligraphy workshop. Calligraphy is an important skill in holy Arabic and Islamic writing. We learnt to write from the right to the left instead of our usual way. The children used special wooden pens and bottles of ink and wrote their names in Arabic script.
CAFOD
We had a special CAFOD assembly led by Maggie, who introduced CAFOD's Walk Against Hunger on the Monday of our Walk to School Week. The children learnt more about how CAFOD is helping communities thrive even in the most difficult environments and how we can help by taking part in the walking and fundraising challenge.
English
Year 6 have been doing some short tasks to practise using commas and apostrophes which they may occasionally forget to use. The understanding is there, but when you have so much to negotiate as a Year 6 writer as you compose your own written pieces, sometimes the odd one is forgotten so we'll keep these punctuation skills bubbling to help deepen the skill.
Year 6 have also been revisiting the common features of a non-chronological report this half term so far. They made a list of top tips to work towards and then completed their own research about an animal of their choice affected by climate change. They planned the content of their report and then wrote their report.
The day they wrote the report was a lovely day in school as they had plenty of time dedicated to allow them to present their report in the style of a non-fiction book rather than just writing it on plain paper. The engagement was tremendous as each child was absorbed in the task. The outcomes are fantastic and here is a little snap-shot of a few below:
Year 6 are now working on formal persuasive letters. They have evaluated a range of letters and have worked on using persuasive words/phrases and sentence starters to really stir up emotion in the reader. They loved choosing an old plastic water bottle from a large collection as each bottle contains a fact about plastic pollution which they could include in their writing. They are preparing to write a letter on a subject of their choice from the following: McDonald's plastic waste in the McFlurry range or to parents of St Joseph's to try to get them to support our recycling of crisp packets in school.
Reading
The reading corner has had new books linked to our current topic of Our Precious Planet so that the children can read around the subject.
We have also started a new class chapter book which is our class reader. The book is called Treasure Island by Robert Louis Stevenson. The children learnt the history behind this classic author and then enjoyed getting to know some of the characters in the book. We have studied the characters in guided reading lessons and looking closely for evidence in the text to support their ideas. Year 6 have got a much better understanding of  the phrase 'what impression do you get' now as a result of this.
If you would like to listen to a short version of the story, here you go:
As well as using this book for guided reading, we also make time for the children to be able to sit back and simply enjoy the story being read to them.
Author Visit: Trish Cooke
We also had a virtual visit from author, Trish Cooke, who is passionate about increasing the amount of books available to buy that have black characters in as she felt growing up that she did not have enough books to read that she could relate to. Trish talked to us about her journey into becoming an author, the highs and lows, and what she enjoys most about writing books and plays. She also gave the children tips to becoming an author and read an excerpt from one of her books. The virtual visit was fascinating and left lots of our children totally inspired to become authors!
Her tips to the children were:
keep writing, keep writing and keep writing
the first thing isn't going to be the best so keep re-drafting and editing and re-writing
get feedback from others and be open to the feedback you receive
be prepared to listen to criticism from others, including critics, peers, focus groups etc.
Some of the questions that the children asked, along with Trish's answers were:
What is your favourite style of writing? It depends on the audience and the publisher.
What is something that is important to you about being an author? To make sure my characters in my stories are black because when I was growing up, I didn't read books with black characters in and neither did my children.
What awards have you won? The smartest book prize, The Young Black Achiever's Award, The Great British Panto Award…to name a few
What is your most favourite book you've written? The Grandad Tree because it was about my Grandad.
If you would like to listen to her favourite book, you can watch it below:
Maths
Year 6 enjoyed Burn2Learn outdoors to generate some of their own calculations where they made equivalent fractions. Working together like this and getting creative with numbers really engages the children and helps to deepen their understanding as they have to justify their choices as they work.
In maths, we spent a little time finishing off multiplying fractions which we started at the end of last half term. Thankfully Mrs Ward's terrible rapping helped the children remember the very simply top tips to follow, and some brave children came to the front of the classroom to have a 'rap-off'. To see how easy it is to multiply fractions, watch this video below.
Next Year 6 moved onto finding percentages of amounts. We looked at how many basic skills underpin this and it includes multiplying and dividing by 10 and 100, and lots of doubling and halving. We made percentage wheels to help us get into the habit of always starting by finding 10%, 5% and 1%. Once we have this information, it's easy to find lots of different other percentages using this information. I was really pleased with how quickly Year 6 picked this up and were ready to apply the skill with some word problems and reasoning. 
If you need some revision of this at home, here is a useful video which shows you how to find some basic percentages first and then use these to find other amounts.
Year 6 are ploughing through maths this half term and really impressing me with how the basic skills are being applied in other areas; when this happens, maths can start to feel a little bit easier so well done Y6 for your hard work on your KIRFS and other basic core skills.
Y6 have spent a week working on multi-step word problems which were really very challenging. When there are so many steps to completed, it usually means that the words problems have lots of different steps to read and digest before you can even start to calculate, so carefully reading skills are needed.  Year 6 enjoyed an Easter Egg hunt where they did various Burn2Learn exercises when they found an egg. Each egg included an investigation linked to money which they came back into class to solve.
We have now moved onto revision of shape covering lots of prior learning to keep it bubbling. They have revised naming angles, measuring with a protractor, angles in triangles, quadrilaterals, intersecting angles, naming shapes and properties of shapes, different types of triangles, etc.
Year 6 enjoyed learning about mean outside in the woodland. They collected a range of sticks and had to problem solve how to measure them without a ruler. A couple of solutions were used: tying knots in a piece of string to represent the lengths or using the squares of their whiteboards. They loved this task as a fun way to learn about mean. 
Art
Year 6 have been looking at different landscapes by a wide range of artists: Henry Matisse, Vincent Van Gough, Georia O'Keeffe, David Hockney, Ken Done, Claude Monet and William Turner. The children studied the styles of each and are now able to identify their works from a wide range given.
They used their visual language skills to comment on their preferences giving reasons why. They looked back at prior learning to see what a good one looks like (WAGOLL) and wrote in detail to explain why they were drawn to some landscapes more than others commenting on lines, colours, overall feel, etc.
Y6 then deepened their knowledge of value scales and practised the skills to be able to use pencils to create different scale values. They again applied knowledge of lines from back in Autumn term and they recalled practising some of these skills a little simpler in Y5.
They are now working on drawing a landscape using these skills and starting to add more layers to the landscape like foreground, middle-ground and background. Here are some of the tutorials that have helped the children to practise this in case the children would like to continue practising this at home.
Look at some of the finished pieces of art below!
Science
Year 6 have made a great start to their Science learning journey this half term. Our new topic is Living Things and Classification. We started by collecting and RAG rating vocabulary for this topic. RAG stands for red, amber and green. We use this traffic light system to show how confident we feel about topic vocabulary. Our new topic has some tricky words for different groups of organisms: arachnid, crustacean, mollusc are examples.
Children used branching diagrams to sort various species of the animal kingdom. The diagrams use yes/no questions to classify the animals into groups with similar characteristics.
In this week's Science lesson, children explored the local environment to find examples of living things from the plant and animal kingdoms. The children looked carefully all around the different areas in the school grounds to find as many different species as possible. We thought about how we could classify the various species and which other organisms were similar to them.
Children worked with partners on ipads and used scientific keys in order to try to identify as many of the species as possible and to write about them scientifically. For the plants, we used words such as vascular, non-flowering, edible and deciduous.
Science Week
Year 6 had a go at some hands-on science activities as part of our SCIENCE WEEK in school. The children were given a selection of mystery plant specimens on their tables to examine and then try to identify and classify. This meant thinking about the features they could see and using branching diagrams and even plant identification apps on the school ipads. The children did a great job at identifying most of the mystery plants and writing scientific descriptions of their features. There were also some excellent and detailed labelled diagrams of the plants we studied.
Many of the children also had a go at making their own branching diagrams to sort and classify the plant specimens. They asked excellent questions about whether the plants were edible, flowering, vascular, herbaceous and evergreen.
For another part of our Science Week work, we set up an experiment to find out more about microorganisms. The microorganism we studied was yeast. It was amazing to see that yeast is a living organism that is dormant until it reacts with other substances. We set up an experiment to find out what substance yeast likes to react with and eat the most. The children carefully measured out quantities of yeast and water, then mixed them with salt, sugar, flour, coffee and rice. We sealed and labelled our experiments and left them for the morning. Our results showed that the yeast reacted extremely well with the sugar sample; this bag had filled up with carbon dioxide, which is a by-product of the reaction between the yeast and the sugar.
Another demonstration of this was our last task. We used a mixture of warm water and yeast in a plastic bottle and secured a balloon over the rim tightly. After just an hour, the balloon started filling up and inflating, due to the carbon dioxide released from the yeast.
Year 6 enjoyed visiting the Y3/4 science fair this week.
French
Out topic for this half term is Sports and Pastimes. We have been listening very carefully to native French speakers in order to have a go at pronouncing key sports vocabulary correctly. Many of the words for sports in French are spelled similarly to their English equivalents, but the pronunciation can be very different. Children have practised the words for various popular sports in different contexts. We have matched the written words to the English equivalents and then tried to identify which sports French people are talking about. We have even been getting to grips with some basic French translation, using clues to find out about which sports are being described.
Next, we will move on to talking in sentences about our personal preferences and practise saying which sports we like and dislike playing.
Geography
Our topic this half term is Our Precious Planet. It's a chance to refocus on our Live Simply Mission and deepen our knowledge and appreciation of our planet. We started off by looking at different biomes, climates and weather. Y6 enjoyed a Burn2Learn session where they rolled a dice and then had to locate that number in the playground. Each location had a climate for them to research and learn about. Then they wrote a postcard to someone of their choice to describe the weather at a location that they chose matching the climate. The children used atlases in this task and maps of the world with keys. Once they had written their postcards, they enjoyed illustrating the front of the post card with weather symbols, plants and landscapes typical of that climate.
Year 6 are also working on a challenge this half term which is to be able to locate and name as many countries as they can in Europe from memory. They did a start task to see how many they knew before they started to practise and are working hard to find different ways to remember the names and locations. As well as this, the extra challenge set was to name as many of the capital cities as possible. At the end of the half term, Y6 will repeat the challenge to see how much they have improved from practise.
To help you practise at home, here are some videos to watch.
If you want to play the game in this video, click on the link. How many can you name?
https://www.sporcle.com/games/g/europe
Music
This half term, Year 6 music topic aimed to teach children how to use Garage Band on the iPads.
We began by following step-by-step instructions in order to play the chords to accompany simple songs such as 'Drunken Sailor' and 'Count on Me' by Bruno Mars.
We then developed our music technology skills and learnt how to play a rock piece of music. Whilst doing this we learnt how to create a new song, add instruments, use pre-set patterns, add drums loops/tracks and play the Garage Band guitar.
The class were then given the opportunity to create their own compositions whilst exploring the other features on Garage Band. Miss Crowley was really impressed with the children's own compositions and Mrs Ward enjoyed watching the children perform this in front of the rest of the class. It can be quite nerve-wracking to perform with an audience, so well done Y6!
As well as their weekly music lessons with Miss Crowley, Year 6 have also worked on a music project with Mrs Ward linked to our class theme of Our Precious Planet.
We enjoyed some warm up music games first where listening and concentration were needed along with practising different rhythms. Year 6 had lots of smiles on their faces as we did this in the hall.
The children listened to and appraised a piece of music named 'Plastic'. They enjoyed picking out familiar children songs used within the music but with a modern rap twist. They were able to comment on what they could hear including things like vocals and naming instruments, as well as naming the style/genre of music or styles that have influenced it. They did this by referring back to prior learning we did at the beginning of the half term where we listened to music styles through the 20th century and significant musicians of each genre.
Year 6 also looked how how the song had been put together, for example, intro, chorus, verses, bridges, outro, etc.
We had a go ourselves at rapping which was quite tricky but good fun to try!
We repeated this task with a contrasting piece of music by Justin Timberlake called Can't Stop the Feeling. We looked at how tempo and dynamics impact on the piece and the audience's reaction to the music. Y6 learnt about the terms crescendo and diminuendo (decrescendo) and listened in both pieces of music for evidence of this musical technique.
PE
In PE lessons with Ms Crolla this half term we have continued the work we started in February about netball. I have been blown away be just how much the children's confidence has increased as we have played more matches. We have worked hard on passing skills and being able to move into space so that effective passes can be made. Through our games, we have learnt more about attacking and defending skills. When children were confident with the different types of passes and had practised their shooting skills, we began to look at the different positions and roles on a netball court. This can seem quite complicated to learn at first, but children soon got their heads round the main shooting and defending positions.
We have rotated playing in the different positions in all our matches and analysed tactics of how to distribute the ball effectively and how to block and defend when you are on the team without the ball. The children have enjoyed playing in a range of teams and positions during this topic.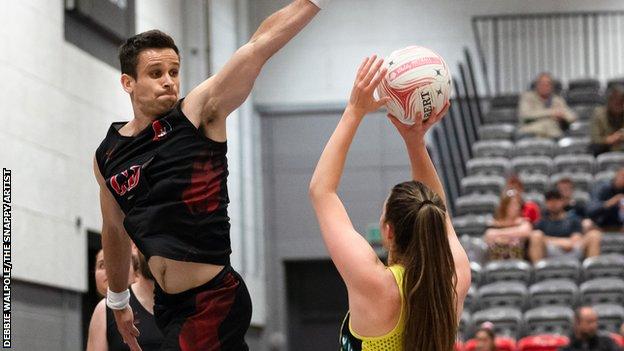 Finally, we discussed gender in sport. Netball is a good example of this as it is taught and played as a mixed sport until the age of 11, but currently there are very few boys' teams at secondary school. We learnt about some grown up male netball players who are trying to promote men's netball teams in international competitions and who want to challenge anyone who says any sport is just for boys or just for girls.
PSHE
Leeds United Foundation: Positive and Negative Choices
Vicky from the Leeds United Foundation visited today to deliver a workshop to Y6. She showed how the objectives for the day linked to our school mission statement and kick started the session asking the children to think about what they already know about positive and negative choices.
They learnt about what 'anti-social behaviour' and the age of criminal responsibility. They looked at a range of scenarios and identified examples of anti-social behaviour like graffiti, littering, theft, etc.
They were informed about the steady rise in knife related crimes and the impact that this crime has on people and communities. They learnt about what might happen if you are in possession of a knife and that it could be being arrested, going to court and possible prison. The impact of breaking the law was also discussed on long term goals and ambitions like travelling abroad, attending universities and getting jobs.
They watched a video with lots of sporting individuals encouraging us to make good choices.
Y6 then were given scenarios to act out. They had to discuss with their group how to act in the situation so that it ended in a positive way. They also thought about the people who might be affected by this, and possible consequences for if they scenario had ended negatively.
Thanks to the Leeds United Foundation for helping Year 6 to learn about these important messages so that they can make positive choices in the future.
Diversity
Key Stage 2 took part in a fantastic diversity assembly where we learnt  more about the pillars of Islam and other religions too. The children reflected on how we are all the same but we are all different. They enjoyed singing and taking part in a true or false quiz too.