Summer 2 202
Our topic this half term is Under the Sea. We will be exploring a range of different themes such as sea creatures, the coral reef, the seaside and looking after our oceans! For more information, don't forget to look back at our class newsletter. 
RE
This half term, we have been learning all about the St Joseph Catholic church in Wetherby. The children have been thinking carefully about the different parts of the church and the objects you might find inside, such as the pews or altar. They have been thinking about who looks after our church and what jobs are needed to keep the church clean and organised for all of the visitors. 
Literacy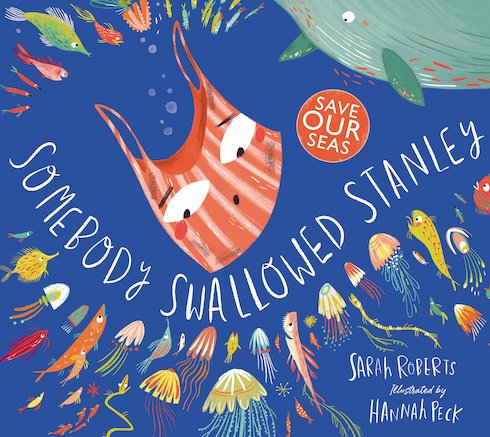 Our first book this half term is 'Someone Swallowed Stanley' by Sarah Roberts. We started our learning journey by listening to the story and ordering the key events together as a class. Then, we discussed how Stanley would be feeling throughout his adventures and answering tricky 'why' questions such as 'Why did the whale eat him?' or 'Why is it important to avoid throwing away plastic bags?'. The children then practised their recall writing by using pictures from the story to write sentences. The children chose an image from the story and then used their phonics to write extended sentences describing what happened. 
In our writing provision area, the children used the story props to inspire their own stories about creatures in the sea! 
Our next key story is 'Tiddler' by Julia Donaldson. We have had lots of fun learning this story together and the children have particularly enjoyed chanting 'Tiddler? Tiddler? Tiddler's late!!'. Once we had learnt the key events in this story, we used it to inspire our own writing. We explored our imagination by creating made up excuses for being late to school, just like Tiddler! The children all came up with fantastic excuses and wrote these independently in their writing books. 
Phonics
In our phonics learning, we will continue to follow the Sounds-Write scheme that we use at St Joseph's. The sounds and tricky words that the children are learning can be found here on our class page. We would like you to focus on learning the tricky words that we have covered. You could play some tricky word games with your child at home, and build reading  them into your daily routine.
Here are a few tricky word games that you might like to print and try at home…
Unit 1-7- Tricky words game
Unit 1-7- Counters for the tricky word board game
Unit 1- 9 Tricky words activity book
Uni 1-11 Tricky words read and roll game
Units 7-11 Tricky word activity book
If you would like to share the tricky words songs we use in class, please look at these videos so you can read and write the tricky words we are covering in class. Tricky words need to be read regularly by your child so they remember them, as they can't be segmented and then blended to read.
We have been exploring the extended code this half term! We have been learning sounds which contain 2 letters and applying this knowledge to our reading and writing skills. 
In sounds write, we call the a-e a split sound. Your children will use the split sound language in their phonics lessons, so please model this at home too.
We have moved onto our new alternative spelling with ee.  Please share the following video's with your child so they can explore the ee sound with the alternative spellings.
Maths
We have been exploring number sentences this half term. We have been learning how to add amounts together and take them away using our mathematical resources we have in our Maths area. The children have also really enjoyed practising their number formation using the whiteboard pens. 
We have been practising our measuring skills around our provision areas using rulers to help us. The children have been exploring, sorting and comparing shells and then using rulers to measure which shells are the tallest or shortest. As an extra challenge, the children have had a go at reading the numbers on the ruler. 
Physical Development
Sports Day
We have had so much fun preparing for our Summer Sports Day. The children have been working hard with Mrs Powell to practise running, jumping, racing and passing for the different races we competed in. On the day, the children did fantastically well and enjoyed every minute of taking part and cheering on their friends in school. We are so proud of FS2! 
Understanding the World
Mrs Harris has been showing us some exciting things that she found on the beach in Scotland. She found empty fish egg sacks, shells and a mermaids purse. The children loved looking at these objects and learning more about what they were and how Mrs Harris came to find them. 
After reading 'Someone Swallowed Stanley', we realised how important it is to keep our oceans clean. In our investigation area, the children have been busy learning how to keep our beaches clean and how to recycle rubbish. They were very shocked to see the sort of rubbish that is often left on the sand and how it can harm the sea life living there. Throughout these activities, the children asked excellent questions and also shared interesting thoughts about how people can make sure there is less rubbish that ends up on the beach. 
We have been learning to work scientifically by making observations and recordings. The children have enjoyed looking through our non-fiction texts about sea life and exploring the range of different shells and objects from the sea.  
We have been using our sense of smell and touch to make predictions about what might be in the boxes. All of the boxes are linked to sights and smells you might see around the seaside and the children made some excellent predictions!
Expressive Arts and Design
In our creative area, the children have been busy designing and making their very own fish. Inspired by the 'Rainbow Fish', the children have thought of their own special fish and the patterns they might have on their scales. Some children chose to design spotty fish, whereas some children chose to make angler fish or spider fish. The children used their fine motor muscles to cut them out and decorate them and they have all done a fabulous job!
We have had a lot of fun learning sea shanties and rhymes this half term. Our particular favourite has been the 'Fisherman Song' and the children have enjoyed using the instruments to perform this on stage with their friends. Some children have even had a go at creating their own musical rhythms and drawing pictures to help them remember it.